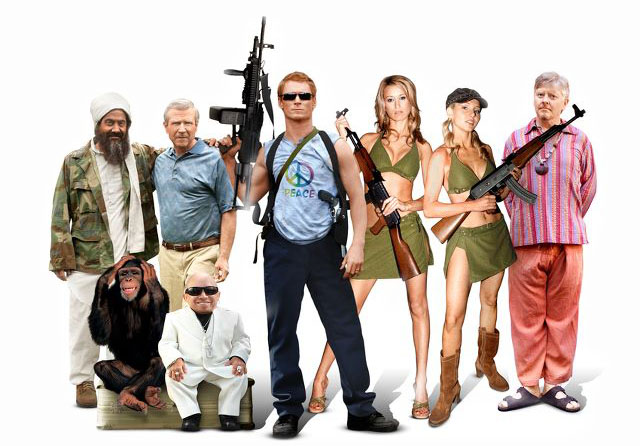 Diesen Frühling kommt die offizielle Postal-Videospielverfilmung vom wohl miesesten Regisseur unserer Zeit in die Kinos. Das macht aber nix, denn Niveaulosigkeit und Postal werden ziemlich sicher eine ganz wunderbare Kombination. Ich freu mich wie so'n kleines Kind auf das Teil!
When your movie features a scene of dead schoolchildren, Osama Bin Laden as a main character, and full frontal nudity from News Radio's Dave Foley, you know it's not a film for everyone. When you make a movie where 9/11 is played for laughs, and Columbine is a punchline — even if it is done as a statement — you are sure to arouse the ire of many.

[…]

What's so raw about the film? It attacks nearly everything Americans — well, everyone — holds sacred. Whereas other films have tiptoed around 9/11 and school shootings, Postal plays them off as humorous. Many hold to the philosophy that nothing is off limits in comedy, but there do seem to be exceptions to the rule, and the aforementioned topics fall into that category.

[…]

The plot revolves around Dude (played by Zack Ward), a postal worker who has had enough and goes on a rampage through the streets of Paradise City. The set-up seems a lot like the Michael Douglas vehicle Falling Down, but the basic outline is where the similarities end. Postal is a ridiculously violent, splashy comedy… If you laughed at the gross-out Garbage Pail Kids or Toxic Avenger movies, you'll be right at home watching this film.
Filme